Link to: References


Theo Newton, also known as Torben Thoger, (born 14th April 1954 in Aarhus, Denmark) is an award nominated Danish composer, songwriter, recording artist, record producer and filmmaker.

Biography - with links
 
1. Composer, songwriter, performing and recording artist:

General overview
 
Danish composer filmmaker, songwriter, recording artist and music producer Theo Newton, also known as Torben Thoger, creates and produces documentaries, music videos, commercials and corporate films. He also creates original music in various genres for film, television, musicals, multimedia and his own CD & music album productions with both instrumental music and songs in both English and Danish language. His works are released worldwide. Torben / Theo has studio facilities in Odder near Aarhus in Denmark. He is owner, filmmaker and composer of Newton Creative Dreamscape, UPNOW Costa Blanca and UPNOW Danmark, which are corporations creating and producing music and film. In addition Newton Creative Dreamscape (NewtonCD) is offering Strategic Creative Consulting as well as Design & Branding solutions. Clients are organizations such as national Danish television DR (broadcaster), Education Minister of Denmark, TDC, Cadbury plc (Stimorol) and Solgården. He is a member of KODA, NCB and AUTOR - The Danish Society for Songwriters and Composers (formerly known as DJBFA).

1.1 - 1960's
Using his full birth name Torben Thøger Andersen, Torben began his musical career as a child in Aarhus, Denmark. He grew up with his parents and a younger brother and their home was a very musical one. His father was an amateur solo- and choir singer and a skilled accordion player. His mother was an enthusiastic amateur actress and lyricist. For a living they had a goldsmith business. From the age of 8 until he was 13, Torben was classical trained and performed as a solo singer in his homeland. Under the guidance of conductor Vagn Pedersen, occacionally accompanied by artists like solo violinist Wandy Tworek, Torben gave concerts and was aired by Danmarks Radio, DR (broadcaster). His voice was remarkable powerful for a child and his repertoire included composers like C.E.F. Weyse, Franz Schubert and George Bizet with a severity of adult opera singers. Watch and listen to recordings from 1966: "Toner" & "Lydløst Leger Årebladet".
---
1966:

Torben sings accompanied by solo violinist
Wandy Tworek at "Vestergade 58", Århus, Denmark.
---
1.2 - 1970's
As a teenager Torben Thoger composed his first works in 1969 inspired by Procol Harum, Elton John and The Beatles. Since he had studied piano from an early age, he was already a skilled piano player and in his compositions and songs he could benefit from his classical music background. In the 1970's his symphonic rock music was performed in the rock bands Rose & Thøger, Capalony and Second to None (Watch film with samples) with Torben behind the piano and as the lead singer. During the period from 1973 to 1999 Torben composed music for 18 Festival Cabarets at Rosenteatret in Aarhus and in 1978 he created his first music for the documentary film called Marselisborgskovene for Århus Municipality. Alongside his musical career Torben Thoger was educated in the business travel agency O.P. Rejsebureau A/S, Aarhus and was appointed branch manager in Odense for the same company, until he became a full time composer in 1985.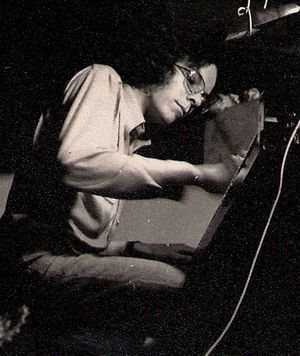 1971:

Torben in concert at "Jazzhus Tagskægget"
in Århus, Denmark.
---

1.3 1980's

In the 1980's Torben delivered music for commercials to Dansk Supermarked Gruppen and Jyllands Posten among others. In 1988-89 he composed music for the rock musical Iris - en rockmusical directed by Mette Lund (Now: Maddie Storm), which had success on Rosenteatret as well as on tour. The rock musical was published on manuscript and score by Drama in 1992. Torben married Mette Lund and they had a daughter named Lærke Taskenlund (Born 1992) who became a sister to Torben's son Kasper Thøger Frostholm (Born 1979), from a previous marriage.
---

1.4 - 1990's
Together with Mette Lund (playwright) Torben Thoger (composer) created a Christmas play called Sønisserne, which was published by Drama in 1991 and during the following years performed several times at theatres and at schools in Denmark.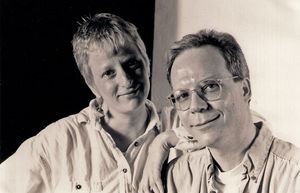 1991: Mette Lund and Torben Thoger 
From his early years till now Torben has created and delivered scores, soundtracks and jingles to a large number of documentaries and TV-series in Denmark like DR-Derude on the Danish National Television DRTV1. Watch and listen to a sample from the best known production: Det' ren Kagemand from Danish national television DR (broadcaster). Among others he also made music for drama and fiction with actor Peter Mygind and actress Paprika Steen who both appeared in "Project Q" by Mediecentret and the Education Minister of Denmark.
In the middle of the 1990's Torben created sound logos for websites on the Internet. Clients were companies like TDC. The newspaper Jyllands-Posten wrote an article about it with a head line claiming that Torben was Denmark's first web-composer.
In 1997 Torben Thoger composed and produced music to Dan Schlosser's text and speech based on his book Den Store Bastiansen published by Dansklærerforeningen and a CD with the same name was released on the label Max Musik.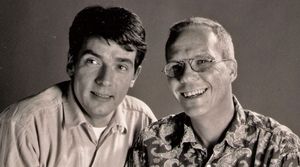 1997: Dan Schlosser and Torben Thoger
---
1.5 - 2000's
Torben had a growing interest in holistic lifestyle and spirituality and he became aware of the healing and balancing effect his music had on his listeners. By his audience he was encouraged to release a CD with his emotional instrumental music. So in 2005 a CD, which was the first of a series of four in this genre, was released on the label Camelot Communication. The album was called Harmony with the subtitle "A sensitive and dynamic journey of beauty and joy". It was followed in 2006 by The Present with the subtitle "Timeless instrumental music for your well being today" and in 2007 by the album AKASHA and PRIMAVERA in 2009. All 4 albums are released in the United States, the United Kingdom, Ireland, Germany, Austria, Switzerland, India, Brazil and Scandinavia and they are available in both CD and in downloadable Mp3 format in music stores or online at Amazon.com, CDBaby.com, iTunes and at other worldwide online stores and download sites. Naturally all his music and songs are also now available on major streaming services worldwide. Find direct links to major online sites at Torben's own website: torbenthoger.com.
 
---
In 2006, 2007 and 2008 at MIDEM - The music industry exhibition in Cannes in France - Torben made agreements about distribution and sales of his music around the world. In 2007 he was in London and Bristol, England to promote his albums together with his label in the UK: Right Recordings. He appeared in the radio shows Richard Lewis Show with Richard L. Lewis on BBC and Talksport presented by Mike Mendoza.
Several tracks from the albums reached the top of the charts in the United States between 2008 and 2011 including # 7 on Zone Music Reporter See chart and # 1 on Music Choice' Soundscapes and SongVault Radio. In 2009 Torben Thoger was nominated for Best New Artist 2008 and his album AKASHA for Best Neo- Classical Album 2008 by Zone Music Reporter in the USA. In 2008 Torben's music was on top Indian national charts.
New Age Music expert Suzanne Doucet of Only New Age Music in West Hollywood, USA, explains Torben's success: "There is an underlying warm spirit of beauty, hope and love that ties Torben's music together. His inspiring, intuitive melodies and sounds allow one to completely surrender and relax and be entertained at the same time. His music appeal to a large audience and can be compared to the music by David Arkenstone, Kitaro and Michael Hoppe."
A CD with songs for children called Den store a-b-zoo with lyrics by Dan Schlosser was released on ELAP in 2009. The songs - of which Torben composed and produced 12 in total - were performed by many artists.
---
2009:
Torben and the band
2007:
On promotion tour to London
2008:
With Suzanne Doucet
at MIDEM in Cannes
---
1.6 - 2010's

Torben has composed and produced music for a show called "2012 - A Turning Point" in cooperation with English medium Kenny Corris, Mette Lund and Lærke Lund. Performance was held in L'Alfas del Pi in 2010 in the province of Alicante in Spain. (Watch promotional teaser) CD album and tracks for download.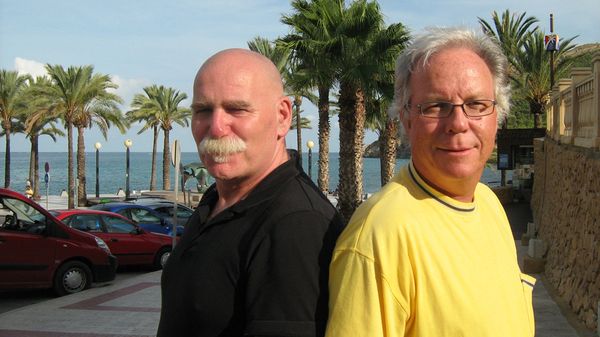 2010: Kenny Corris and Torben Thoger
In 2011 and 2012 Torben worked with his daughter Lærke Lund and created two songs called "Be the Change" and "Give Love - Get Peace", in which Lærke sings together with Torben. The style is melodic pop/rock with a touch of the musical genre and the songs are about the need there is to change our world into a better one. The songs are available as singles for download from digital outlets like iTunes and the music videos can be found on YouTube. Click to watch "Be the Change" and "Give Love - Get Peace".
---
In 2011 Torben began to work with sound healer and holistic singer Vibeke Sonora on emotional spiritual songs. Together they released two singles called "To Catch a Moment" and "To Touch a Heart" and they are both to be found on other digital outlets like iTunes and on YouTube as music videos as well. Click to watch "To Catch a Moment" and "To Touch a Heart".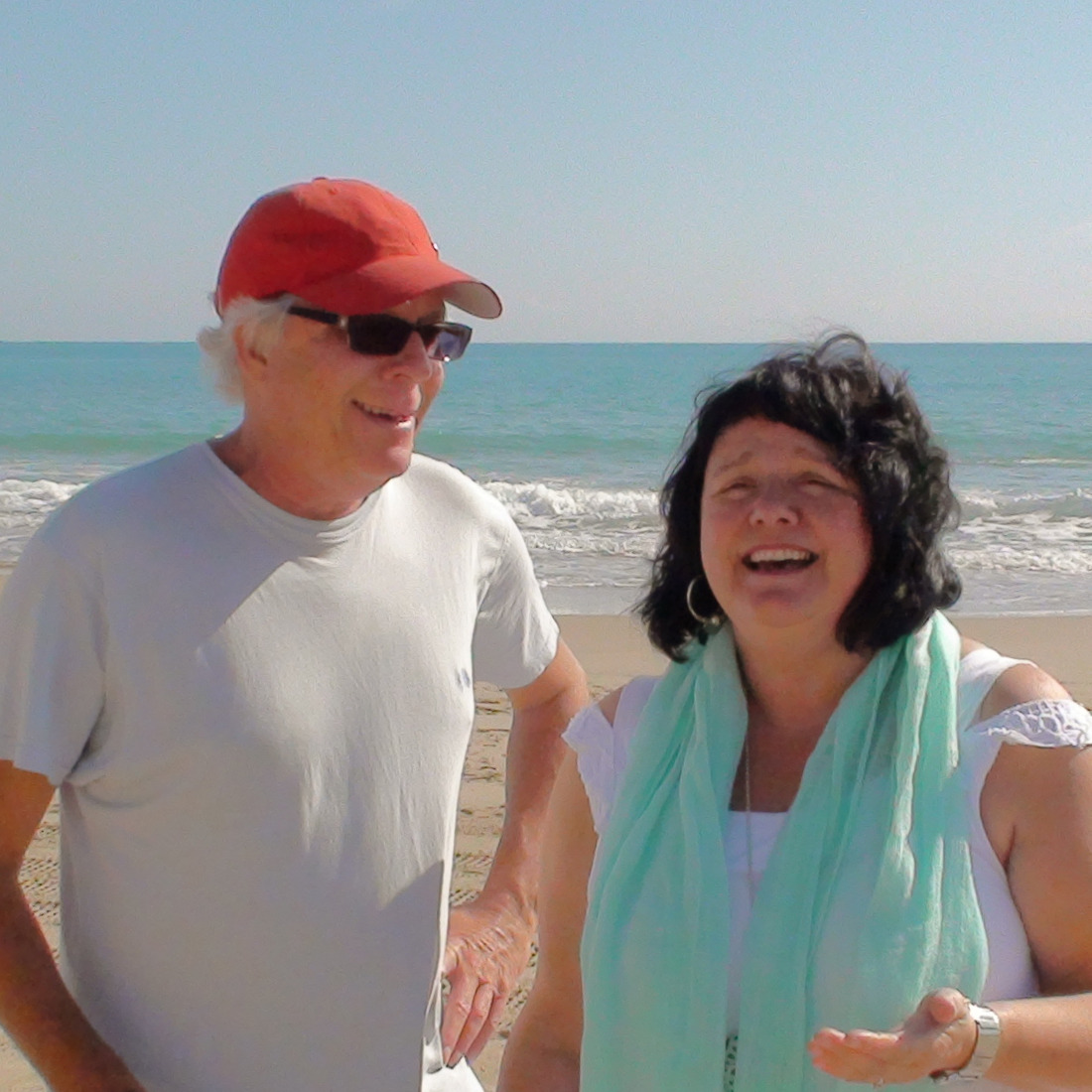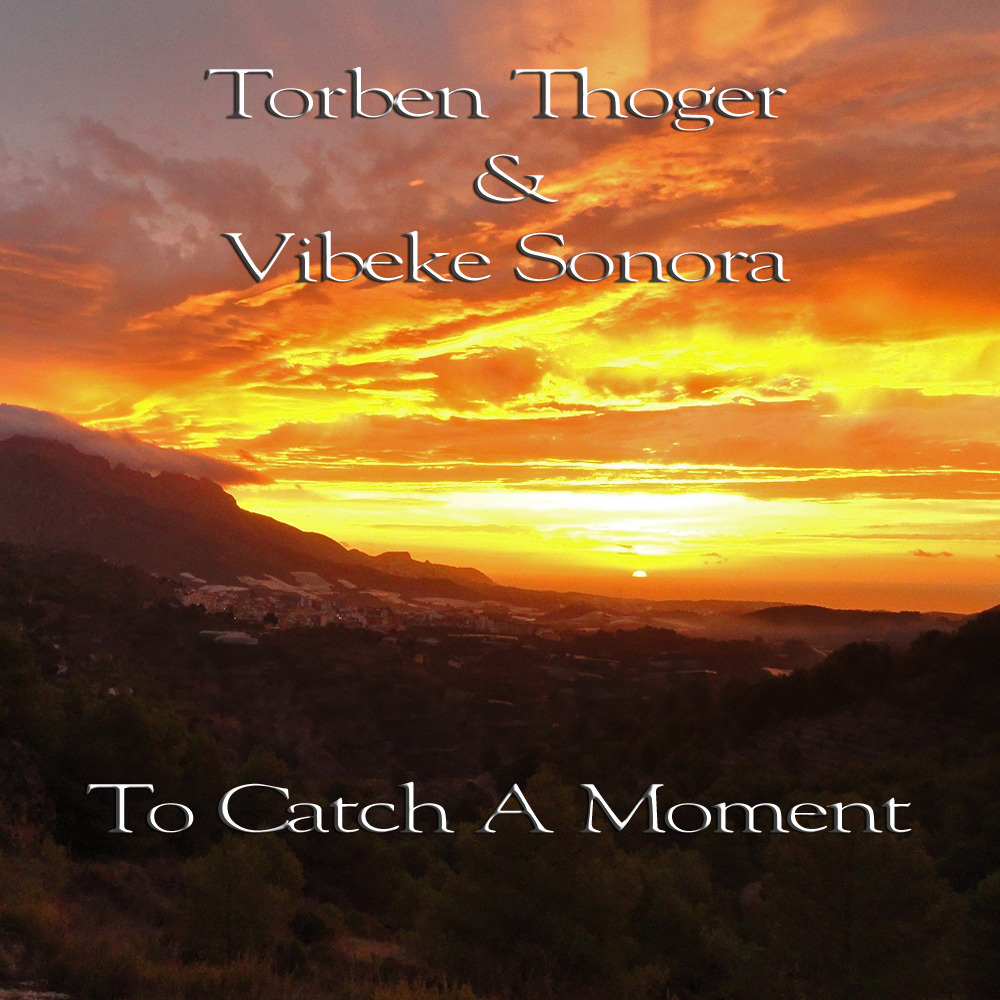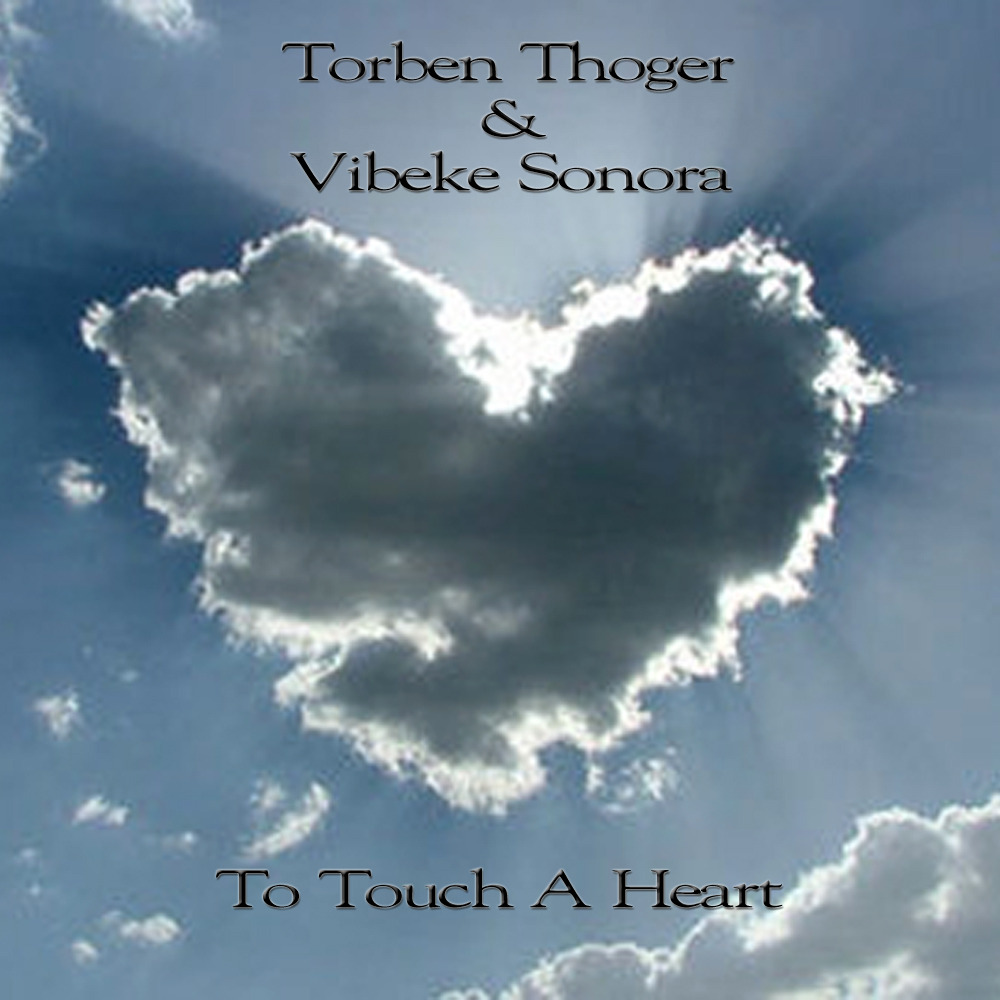 ---

"The Golden Age - Into the 5th Dimension" was a show held in L'Alfas del Pi, (Alicante), Spain in April 2012. Through the media of music and song and informative narrative speech, Kenny Corris and Torben Thoger, together with Mette and Lærke Lund performed with great success.
A CD with the music, songs and meditations was released and is available for download and streaming everywhere.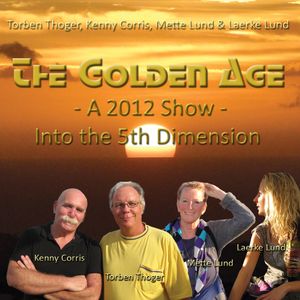 Kenny Corris, Torben Thoger, Mette Lund & Laerke Lund
---

Torben Thoger's album "Songs about Love and Oneness" (Released 12.12.2012) with 18 new songs is especially created to enlighten and raise our energy vibration. Watch a video presentation, which is also a documentary about Torben's music and how music increases our vibration. Click here, or the album cover below.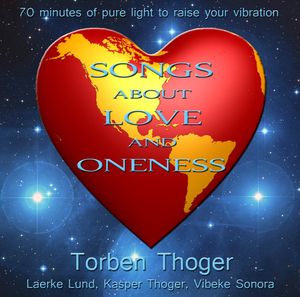 ---

In 2013 Torben Thoger and José Luis Luri released a single called "Time of the Open Heart". This beautiful song is a fusion of opera, musical and rock music and is written by Torben Thoger. José Luis Luri, who is a renown Spanish opera singer, sings with Torben Thoger, a classical trained Danish composer and recording artist of instrumental music, who is also a song writer and a rock singer. The brilliant guitars are played by the Spanish musician Pepe Bornay. At the same time a video-teaser was produced by Torben to promote the song.
 
---
Game Changer is an album released in December 2019 with a collection of Theo Newton's best songs.
Most of the 18 tracks are from recent years and the title melody is brand new.
Theo – also known as Torben Thoger - wrote his first songs when he was 14 years old in January 1969, so in 2019 he was celebrating his 50th anniversary as a songwriter and music composer
Several singles and albums has been released during the recentyears both in English and in Danish language.
CLICK HERE to watch a playlist with music videos from this direct link to YouTube.
---
1.7 - 2020's
 In October 2021 Theo Newton released an album called ØREHÆNGERE with 14 
new pop songs in Danish language. Several songs are already on top of the charts.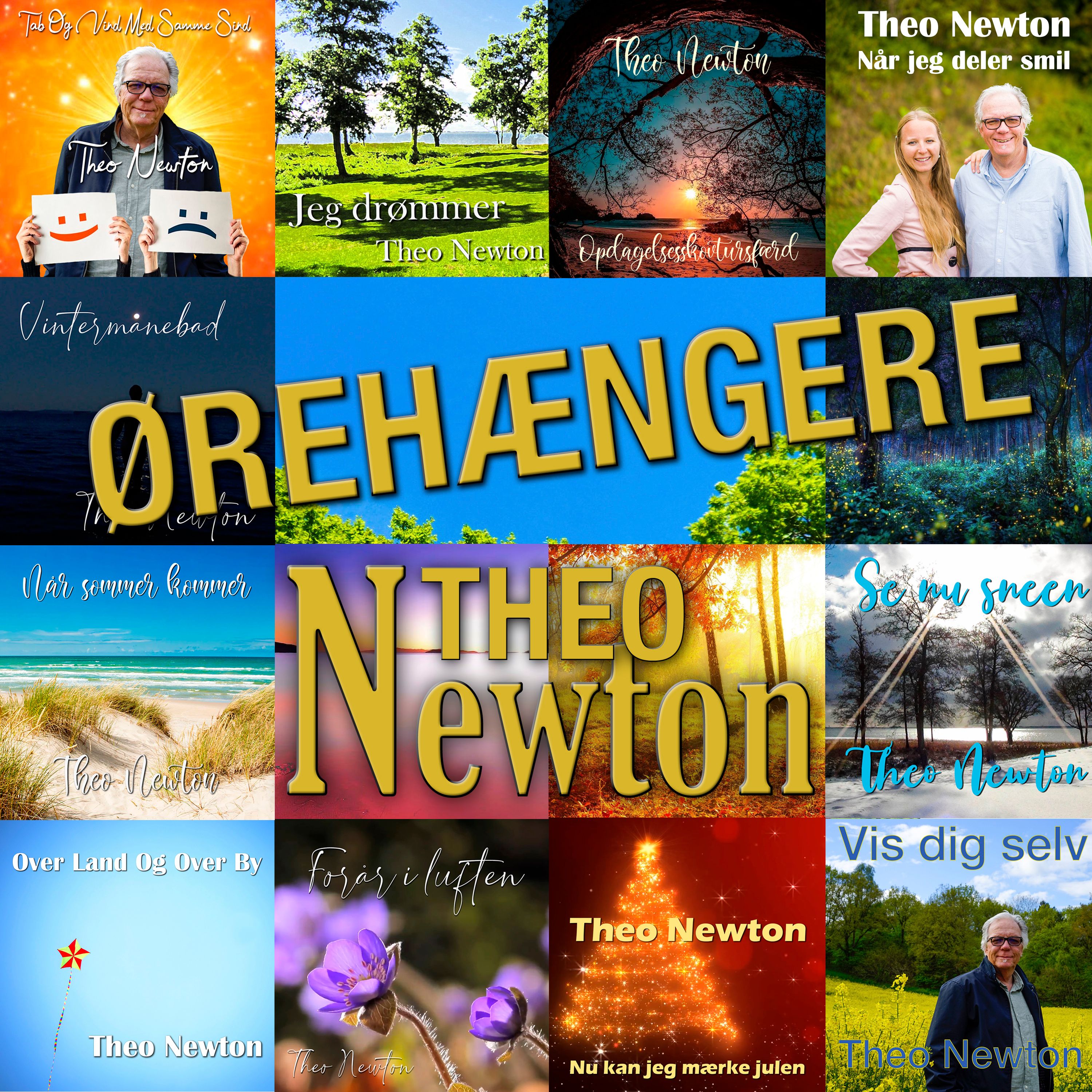 CLICK HERE to hear samples from the 14 songs.
---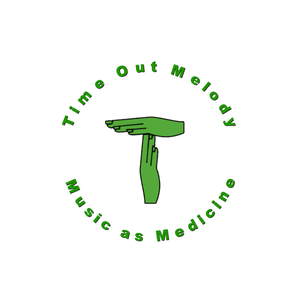 In 2018 the WebApp "Time Out Melody" was launched. In the App you can choose from different categories of
music that helps you to relax, to release pain and much more. Take a Time Out and get the new FREE App: www.TimeOutMelody.com
---
2. Filmmaker
Torben Thoger is an educated film producer and television producer at Medieskolen Århus and since 1999 he has produced documentaries, promotional films for businesses, commercials and music videos. Companies, schools and organizations like Solgården (Watch film), Heilesen & Mygind (Watch teaser for DVD-video) and Den Norske Skole Costa Blanca (Watch sample) are among Torben's clients. In connection with the promotion of his own albums and other releases Torben has produced videos about his music. Some are traditional music videos with relaxation music: Primavera, A Wonderful Place and Harmony Comes and others are documentary in style with behind-the-scenes-like music performances: Hollywood Interview with Torben Thoger (in cooperation with Only New Age Music in West Hollywood), See how I make music and AKASHA. Torben has also released music videos with songs and some of them he sings with other artists in a fusionised style: A Choice to take a Chance to make a Change, Be the Change, Now, Give Love Get Peace, To Catch a Moment and Time of the Open Heart.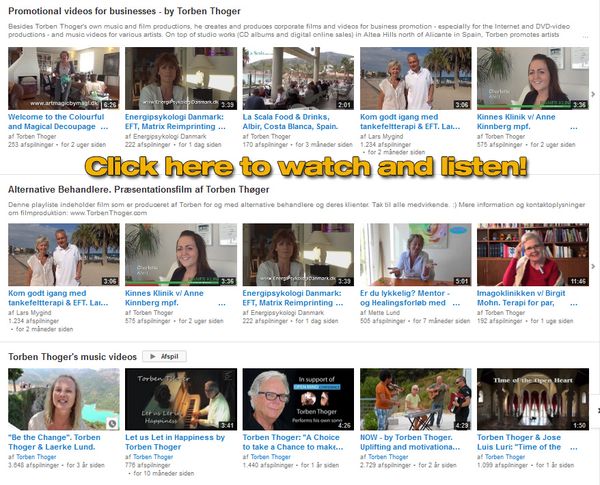 ---

Watch Torben's documentary "Får du nok sol?" about the sun and its healing effects:

It is in Norwegian language and you can choose either Norwegian or Spanish subtitles click here. 

In this complete 30 minute documentary, Torben has asked renowned scientists what it is the sun
and the warmth is doing to us, and unanswered questions about Vitamin-D are being investigated.
He visited the Norwegian colony on the Costa Blanca in Spain and asked some of the thousands of
Norwegians why they live here. He has also been at the largest Norwegian school outside Norway and we experience the interesting history of Solgården. The holiday and health centre sees itself as a kind of help organization that for more than 40 years has welcomed seniors, families and mentally disabled, who long for the sun.The language is Norwegian and you can choose subtitles in Norwegian or Spanish.
Torben has created and produced it himself, which means that everything except for a few things like narration and some of the played instruments and subtitling, he has had his heart and hands on.

After a successful premiere in a theatre in L'Alfas del Pi in the province of Alicante in Spain on 19th May 2014, the documentary is now public, which means that you are very welcome to share the documentary with others. 
---
UPNOW

Theo Newton is the owner of the media companies UPNOW Costa Blanca and UPNOW Danmark, who produce info-documentaries and films about businesses and attractions, primarily for online and TV-channel viewings. 
In Spain Theo has created and produced 28 info-documentaries and is currently working on his first Danish info-documentary about Odder.  
CLICK HERE to watch the info-documentaries we have released since 2016.
Click here to go to "UPNOW Danmark".
________________________________________________________________________________
Newton Creative Dreamscape offers High-End Music- & Film making,
Strategic Creative Consulting and Design & Branding solutions.
We Transform your Dreamscape into Reality

A Corporate Documentary Style Film tells your Interesting Story
____________________________________________________________________________________________________________________
3. Lecturer and Teacher 
Torben Thoger has cooperated with several Danish educational centres and international organizations on classes and subjects like songwriting, composition, film music, creativity, intuition, personal growth, spirituality, cooperation, communication and social media marketing. Amongst the references are: Novo Nordisk, The European Film College, Testrup Folk High School, MacMann Berg - International Organisational Development and Den Norske Skolen Malaga.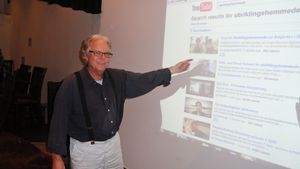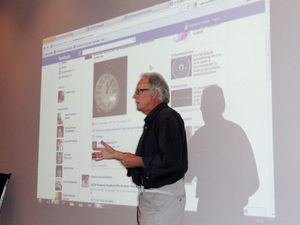 ---
 TORBEN THOGER
- by Beth Ann Hilton

One might say that although Torben Thoger was born and raised in Denmark, his heart has always been in Spain. Driven by a love of melody, this masterful composer offers a powerful three album music collection that alternately relaxes (Harmony), engages (The Present), and impassions the listener (AKASHA) in an aural journey through his world. Torben readily shares his love for Spain and its more exotic tastes and terrains in AKASHA and The Present, while reflecting a quiet love for the simplicity of Denmark in Harmony. Of his latest album AKASHA, he says "This is music from my heart – and from AKASHA."

In 2008, Torben Thoger released his New Age albums for the first time in the United States. He composed, arranged and produced all music on his three aforementioned albums in either his state-of-the-art home studio in Torup, on the Danish isle of Samsø, or at his home in Callosa den Sarià, Alicante, Spain. Whatever the location, Torben believes in living a creative lifestyle with his family; Mette Lund, his wife, is a painter and a healer.

Experts, such as Suzanne Doucet of Only New Age Music, say his music has more in common with the rich eclecticism of top European New Age artists than it does with the more traditional and staid sound of Denmark's current New Age offerings. She offers, "His music is influenced by different cultures and styles, and he blends classical, world and pop elements into a tapestry of colorful and relaxing soundscapes; his music will appeal to many different audiences. I would call his music Holistic New Age."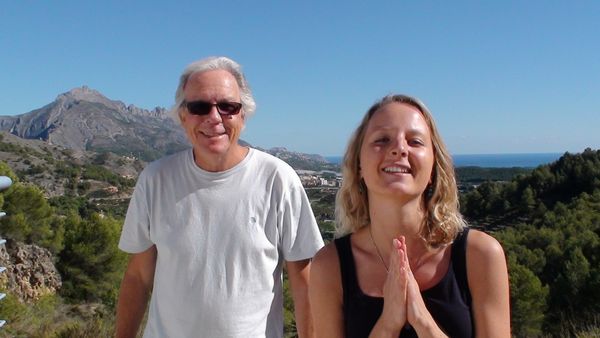 Torben and his daughter Lærke during filming at Casa Musa for a new music video. November 2012.
Following his singing career as a child star in Denmark, Torben Thoger made a profession of composing music. He has decades of experience composing and producing original music in various styles for film, television, musicals, multimedia and his own productions. He is the proprietor of  torbenthoger.com and Camelot Communication, companies creating and producing a diverse slate of music, film, multimedia and arts projects for esteemed organizations such as the Danish Broadcasting Corporation and The Danish Ministry of Education. He is a member of "DJBFA - The Danish Society for Songwriters and Composers."

Sharing his professional knowledge and holistic outlook on life is something Torben enjoys, lecturing at various Danish educational centers such as the European Film College, among others. His subjects and classes include song-writing, composition, film-music (soundtracks), creativity, intuition, personal growth, spirituality, cooperation
and communication.

Torbens music is available in music stores, gift stores and in bookstores and online at webstores such as Amazon.com, CDBaby.com, NewAgeMusic.com. His music can also be downloaded at iTunes, CDBaby, Emusic, Rhapsody and Napster. 

References