As a filmmaker Theo Newton (Torben Thoger) produces corporate
promotional films, commercials, documentaries and music videos
Corporate promotional films,
commercials and documentaries
Did you know that having a promotional video on YouTube or another social network is FREE advertising?
With the right keywords and tags your potential clients will be directed to your video and your website.
Even search results on Google will show a preview picture of the video and
with the right keywords and tags it will show up early in the search results!
Each film I produce is always unique and tailor made entirely to your wishes and needs.
  When I create a film, I generally use a documentary style with testimonials from clients.
I believe that an interesting and well produced documentary, which can communicate the atmosphere
and "the product" in an emotional way, is the best way to get ones message out, whether we are
talking about an informative video, a commercial or a company profile - and at any length.
A film can be produced in any language you choose, even mixed, which works fine with subtitles.
All original music is composed and produced by me as well.
Please contact me for an offer for a specific production - at a fixed competitive price.
All the best
Theo Newton
Watch Theo / Torben's film productions below or: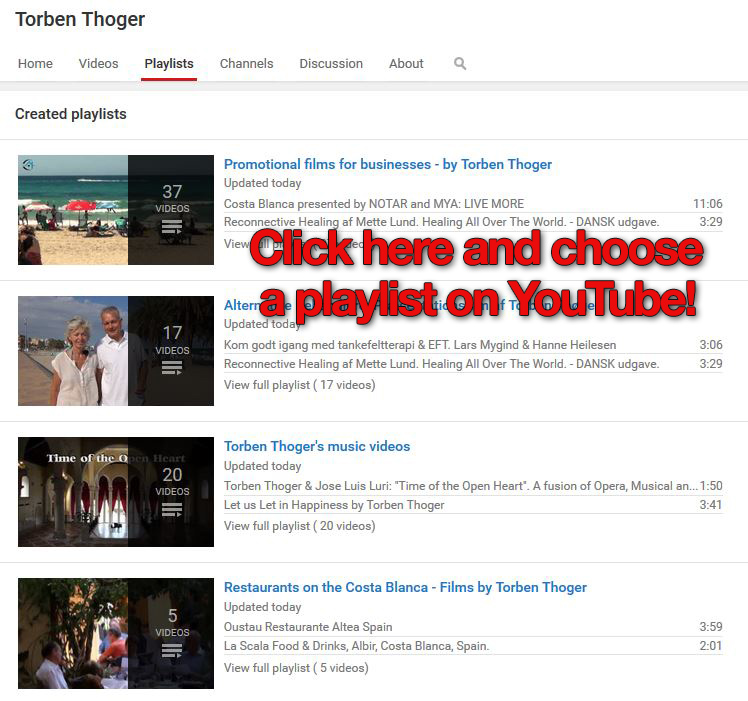 Click here to go to the Music Video page
This is a Danish speaking presentation film about Torben's films for businesses.

DANISH description: Her kan du opleve filmskaber og komponist Torben Thøger,
fortælle hvordan han laverpræsentationsfilm til virksomheder. Du ser eksempler på
hvad der virker og tilfredsekunder fortæller hvad de har fået ud af samarbejdet. 
  Filmen er på dansk og der er undertekster på de medvirkende kunder, som taler engelsk og norsk. 
  Film og musik er skabt og produceret i 2015 af Torben Thøger. © 2015 by Torben Thoger Productions.
This is about what to explore on Costa Blanca. 
© 2015 by Torben Thoger Productions.
This 3-minute film LEV TRYGT in Norwegian language is about LIVING SECURE in the area around Albir on Costa Blanca. © 2015 by Torben Thoger Productions.
A presentation film for Ziebell Wellness in Denmark. Gitte Ziebell explains
about her treatments and courses. © 2015 by Torben Thoger Productions.